360° Virtual Tours
The examples below are web friendly files of a few megabytes, the original high resolution tif files are in excess of 600 megabytes each. If you are interested in learning how to make 360VT files, please be aware that there is a lot more to it than simply stitching panoramas together, matters to consider include: lens choices and settings, DOF maximisation, exposure (not only ETTR) and bracketing, individual file selection, when to use HDR, optimising and improving HDR output, stitching and correcting errors, templates, post processing techniques, patching, lens flare removal, file optimization, output customisation and a whole host of other things. I run photographic tours of Crete and can supply you with the necessary equipment and teach you how to use it so you can produce your own stunning 360VTs. For further details, please see my tours page
Nature

Stalagmites & stalactites Preveli after the fire Mountain stream

Beautiful wilderness
A river runs through
It's a long way down...
Property
Kymata Recording Studio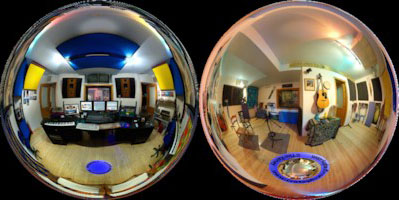 Take a 360 degree virtual tour of the two rooms - hosted on the studio website - click the logo on the floor to return to this site
Mountain church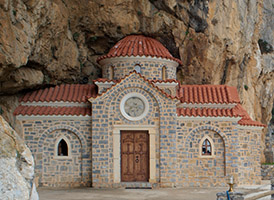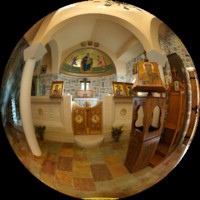 Beautiful little church built into a mountain rock face - available as a 52 by 20cm (20 by 7.9 inches) print on the Large Prints page
Custom made 360VTs
Promote your business with a custom made 360° virtual tour. Inside, outside or a combination of views can be used to create a unique virtual tour. Ideal for hotels, apartments (rent rooms), museums, real estate and businesses of many descriptions. All necessary files supplied, simply upload them to your website and you're in business! Full support included; site creation too, if required. If you would like to discuss a custom made 360° virtual tour, please leave your details on the contact page or email Tim Rainey: info AT cretephotography DOT com
Rethymnon (demo tour)

Four 360° views each with two hot-spots linking to two other views for a circular tour of part of Rethymnon old town. Click any of the four images above to start the tour from that location then click the blue hot-spot circle to be taken to the next view. You can also click and drag with your mouse to move around the view.